How Do I Get Rid of All of This Water?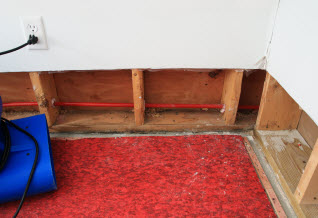 Whatever type of water damage you encounter, you must be certain you act as quickly as possible to minimize damage to your home or business. It's important to call a professional restoration service within the first 48 hours in order to avoid further damage.
A. Roto Restoration's Water Damage Restoration services include everything from emergency water removal, drying of structural elements and carpets, cleaning and drying of contaminated air ducts, mold remediation to final cleaning services such as carpet and upholstery cleaning. We take care of everything.
Flood Damage Specialists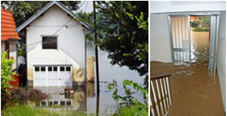 Flood damage is the most severe type of water damage because it has the ability to ruin all types of surfaces on a large scale. Though flooding typically affect basements the most, many floods reach ground level. We will remove the flood water and then help you recover from the damage with restoration.
However, recovering from flood damage is not as simple as pumping out all of the water. Depending on your structure, you may need the help of an expert to remove the moisture from the walls as well. Flooding is common in the Chicago area including Schaumburg, Des Plaines and surrounding communities. You are better off contacting the experts at A. Roto Restoration to help rather than trying to do it yourself.
Carpet Water Damage Experts
Even a little water has the ability to ruin carpets. Sometimes unsuspecting homeowners think that they have removed all of the moisture from their carpets, when in fact, the moisture has soaked down to the padding creating a breeding ground for mold. Once mold has taken hold of a carpet, it can quickly spread. Instead of risking long term damage to your property, you are much safer hiring an expert to help you recover from carpet water damage.
Water Extraction Due To Floods or Burst Pipes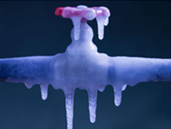 It's freezing outside. You have water on the floor. Lots of water. Maybe you have no water pressure. You didn't do anything to protect your pipes from getting frozen. Your pipes have burst … NOW WHAT?
Whether it's a disastrous flood, sump pump failure or a frozen burst pipe, water damage to your home or business can cause a major disruption in your life. The good news is that your damaged floors, carpet and area rugs can be fully restored if treated immediately by a skilled professional: A. Roto Restoration!
Our Water Extraction Process
We start with a thorough inspection and begin the water extraction process followed by drying and dehumidifying the area. Next, we decontaminate, disinfect and sanitize to avoid mold and mildew and eliminate odors. Restoration follows to restore your property to its original condition, i.e. reconstruction of the area if necessary. In compliance with the IICRC S500 restoration guidelines, our trained, uniformed technicians will restore your property quickly and efficiently. We offer 24/7 emergency service…every minute counts!
Call A. Roto Restoration today at ­­630­.­­543­­.­­0668­­ for your free consultation. Credit cards are accepted. For your convenience we will be happy to bill your insurance company direct. You'll remember only how good your home or business looks after our services.