Air Duct Cleaning: Improving The Air Quality In Your Home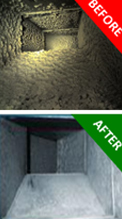 It is important to regularly clean your air ducts to keep your heating and cooling systems working efficiently. Our technicians use the most advanced H.E.P.A. (High Efficiency Particulate Air) Filtered Air Duct Cleaning System available. Our equipment exceeds OSHA, EPA and NADAC Standards for cleaning the air of spore particulates.
We will remove dirt, dust, pollen, animal dander and any airborne contaminants that affect your heating and cooling systems. A sanitizer and sealer will be recommended if needed. Call Budget King today at ­630­.­­543­­.­­0668­ to schedule you air duct cleaning. You'll breathe easier!
AIR DUCT CLEANING SPECIAL OFFER
$6.95 Per Vent
Antibacterial Sanitizer and Sealer Available At Additional Cost
Trunk Lines Priced Separately.
PLUS … FREE DRYER VENT CLEANING with Air Duct Cleaning

Dryer Vent Cleaning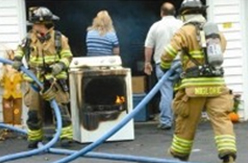 Almost half of the lint in a gas clothes dryer passes the filter and gets into the dryer vent. When lint accumulates, it interferes with the venting and reduces the dryer's efficiency, causing the potential for a fire. Don't wait for this to happen in your home! When the vent is clean, it prevents overheating and also saves on energy loss. So before you do another load of laundry, call us today to schedule your dryer vent cleaning! Dryer vent cleaning special $89.95.
Schedule a FREE Estimate
Our goal at Budget King is to exceed your expectations. If you need your air ducts or dryer vent cleaned, look no further as our experienced team will get the job done right. To schedule a free estimate on any of our cleaning services call Budget King today at ­630­.­543­.­­­0668­. We accept credit cards and offer savings if you bundle your services!