A fire is one of the most devastating events anyone can suffer. The effects on your health, physically and mentally, can last a lifetime. Fire and smoke damage restoration requires a combination of strict cleaning techniques and attention to detail. Smoke and soot odors can be absorbed by almost any surface and need to be immediately addressed.
Chicago Area Fire and Smoke Restoration Specialists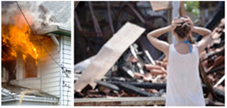 Cleaning up after a fire is a long procedure. Smoke can reach deep into every part of your house including walls, ceilings, attics and more. Soot can cling to surfaces throughout your entire home or business.
Hiring a company without the proper experience and certifications to complete a full fire restoration can cause more harm than good.
Our fire and smoke restoration experts will customize a recovery plan to restore your property quickly, efficiently, and affordably utilizing our years of experience and expertise in the restoration services industry. We work quickly to return the property to pre-fire condition. We offer 24/7 emergency service…every minute counts!
Contact A. Roto Restoration for a FREE Estimate
Call A. Roto Restoration today at ­630­.­­543­­.­­0668­­ for your free estimate. Credit cards are accepted. For your convenience, we will be happy to bill your insurance company direct. You'll remember only how good your home or business looks after our services.